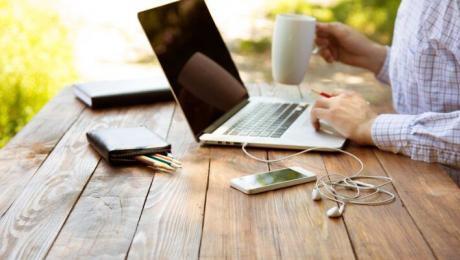 Technology is absolutely liberating in the way that it brings writers and editors together in every form of project. Not only does it offer support in major ways like easier organization and faster communication, it also allows us to live in the present with instant access to information on everything from quick technical style questions to in-depth research on any subject. It is, however, easy to get distracted and pulled into bad tech habits that are counterproductive to success.
Adopting the following habits is nearly guaranteed to change your work life for the better. The small efforts that you will expend in finding the right methods and software for yourself will pay off with more free time and much less frustration in the end.
Back Up Your Backups
It happens: your computer crashes while you are working on a new article or are up to your ears in novel research. One day, you may try to open a file only to receive an error message that it has been corrupted. For documents, the easiest way to back up your work is with a free cloud service like Google Drive, Windows SkyDrive, or Microsoft's Dropbox. Using more than one service is recommended as services can disappear without warning. Also, regularly back up your information to a standalone drive just in case.
Always Be Current
While most software is programmed to update itself regularly, a quick check for updates once a week can't hurt. For foolproof updates, go into your program settings and select "Auto-Update" wherever possible. This includes Word, Windows, anti-virus software, and anything else you use that is vital to your work. If you are less than tech savvy, a free program called "Update Checker" will do the work for you. By keeping your programs current, you stay safe from current threats and head off new ones.
Get Organized and Stay Organized
Organization is one of the biggest issues most writers and editors face. When work or life gets busy, it is easy to toss something (including a manuscript) to the side and forget where we put it. Using software options like cloud syncing will allow you to access your work anywhere and acts as a bonus backup tool. Keeping a database or spreadsheet of contact information and submissions will ensure all your information is in one place when you need it. Also, check out apps like Wunderlist for your to-do needs.
Free Your Work
Rather than pay exorbitant amounts for fancy software (unless you truly require it), look at the free options available online and through app stores. Word processing programs like Open Office and LibreOffice offer full software suites to help your work stand out as professional. They are loaded with all the features you need and some you didn't know you did. A world of free organizational and security software is also available. Read software reviews to determine which will work best for your unique needs.
Portable Procrastination and Other Follies
Cultivating good habits means you actually have to get started on them. They will not become habits unless you put them in place and continue to nurture them, so it is important to start right now if you are serious about making changes that will make your writing life easier. With these four vital habits in place, bad habits get replaced, panic over lost work or lost contact information disappears, and suddenly work is more enjoyable than it's been before.