If you are an avid fiction writer, then you have probably run into the problem of writer's block once or twice. Lack of inspiration is the most potent enemy to a writer of any kind, but especially to one who relies on original tales and stories of fiction. Still, there are a number of ways you can get your creative juices flowing again, no matter how tapped out you feel.
Writers have a tendency to become stagnant in their work. They feel that the assignment at hand must be done as soon as possible, as many face impending deadlines for their work, but the fact remains that sitting behind your desk in your office is actually counter-productive to the creative process. To get the creative juices flowing, it is always a good place to start to get your actual, physical juices flowing: your blood. Try taking a short brake and going for a half an hour walk. We do some of our best thinking when we are walking, because we are getting more oxygen to our brains than by sitting behind a desk writing or typing.
Keep in mind that being sedentary is the enemy of creativity. Another thing you could do to combat mental and physical lethargy is to change your setting. Your desk and office may be the most congenial place for you to write logistically, but it may be stifling your imagination and creative capacities. If at all possible, set up shop in your backyard, on your deck, or at a nearby park. Try writing outdoors or simply change your work scenery to gain a different perspective.
This next pointer may be the most powerful yet: tap into your dreams. Even if, in your waking life, you are finding it hard to think creatively or come up with something new, chances are your subconscious mind is not having the same problem. It can be difficult, with your schedule, to record your dreams when you wake up in the morning, but give it a try. You can start by keeping a small notebook and a pen near your bed, perhaps on your nightstand every night. Wake up 15 minutes early every morning to give yourself time to simply lie in bed and think about your dreams. Close your eyes and try to recall every detail as best you can, no matter how seemingly inconsequential. Write everything down in the notebook—everything! This is the time where you should be a free-form recounting your dreams, and you can sift through the details and what is incomprehensible later.
You may get an idea for a new story form your dreams or maybe some valuable insight into a story you are already writing, as our dreams are often cryptic messages to us about things that are going on in our waking lives.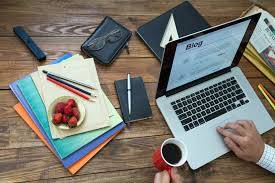 Everyone thinks they want to be a freelance writer. You make your own hours, you set your own rates—what could be better? Getting paid, that's what. Finding paying work online is like tracking down that pesky cricket in your bathroom at four in the morning. You know it's there, but you just can't find it. And just like catching that cricket, finding freelance writing work takes some skill and out-of-the-box thinking. Here are some great places to start your search.
Craigslist is Your Friend
Yes, you can find a lot of writing work on Craigslist! You just have to know how. If you only look in your particular city, there might be three or four listings a week (if you're lucky), but there is a better way. Google's advanced search option lets you rummage through Craigslist posts all over the country (and world) and find remote work everywhere.
Facebook: Not Just for Photos Anymore
Facebook can be used for a lot more than just gossiping about media celebrities and sharing pictures of cats. There are pages and groups galore, and a few moments' searching will uncover dozens of writers' groups, pages, sites, and blogs. Facebook is a great place to share tips with other writers too.
LinkedIn Will Keep you LinkedUp
For more professional writers—or those who want to be pros—the professional networking site LinkedIn is a great place to be seen and noticed. Businesses, companies, and sole proprietors prowl the forums on LinkedIn, looking for people who are bright, savvy, and able to write coherent sentences. Technical or scholarly writers do well on this site for pros.
Meetup Makes Meeting Up Merry
Not all writing can be done remotely. Sometimes you have to get out and hustle. Where to start? That amazing site Meetup finds networking groups, writing critique groups, business organizations, and social clubs—all great places to seek work. A talented writer with a little moxie can make connections, and more importantly, get assignments at these get-togethers.
The Art of Bidding Wars
Bid sites abound online these days, and they are good places for writers to hone their other skills—negotiation and price setting. Thumbtack, Fiverr, and Freelancer.com are all sites where, for a small fee, you can post your profile and then bid on projects others post. Bidding sites are not necessarily places to earn a living, but they are great for developing a portfolio, earning a little pocket money, and most importantly, getting your name and reputation out among people.
Freelancing is not a job to be taken lightly. There is money in it, but like that midnight cricket, it is elusive and takes patience to find. But the rewards of working for yourself are great and worth all that time spent hunting around cold dark tiles in the middle of the night.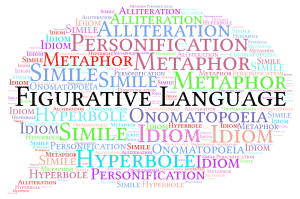 Figurative language is any literary device used by a writer to communicate something beyond the literal meaning of the words being used. That might sound complicated, but it just means that a writer can use words to paint a word picture to help their readers more accurately visualize what they are reading, or imagine the emotions and the feelings of the characters. You may find the following literary devices helpful to make your own writing more interesting and meaningful, both for your readers and for yourself.
Simile
A simile is comparing two very different things, using the words "like" or "as." In order to be a simile, one of those two words must be used.
An example of a simile is the sentence, "He is as sweet as pie." A person is not really like a pie, but the idea conveys to a reader that the boy in question has a sweet nature and is very amenable.
Metaphor
A metaphor is very similar to a simile in many ways. However, a metaphor compares two very different things without using the words "like" or as."
An example of a metaphor would be the sentence, "He's a real tiger in the courtroom." A comparison is made between a person and a tiger; however, because the words "like" or "as" are never used, it is a metaphor rather than a simile.
Hyperbole
Hyperbole is intentional exaggeration that is made for a specific effect. For example, if a mother tells her children that she has "told them a thousand times not to climb on the curtain," the reader understands this is not to be taken literally. Rather, the mother simply means she has told her children repeatedly. The exaggeration is clear, and its intended effect of illustrating the parent's frustration is accomplished.
Onomatopoeia
While difficult to spell and fun to pronounce, the concept is quite simple. Onomatopoeia refers to words that make the sound they are emulating. In other words, they sound like what you are saying. An example of this is the word "creak." As you say it, you can hear the creaking of a door or rusty hinge.
Alliteration
Alliteration repeats the initial sound in a group of words and is usually used in poetry or in prose with a specific rhythm. The effect emphasizes the sound through the repetition. An example would be, "Sally saw Simon selling seashells."
Personification 
Personification is attributing human characteristics, thoughts, and feelings to objects and animals that are not human. In some cases, they may not even be living. An example would be talking animals in stories, such as the popular Aesop Fables.
All of these types of figurative language add color and personality to your writing. The next time you read a book, take the time to notice how the author uses these techniques to draw you into the story.