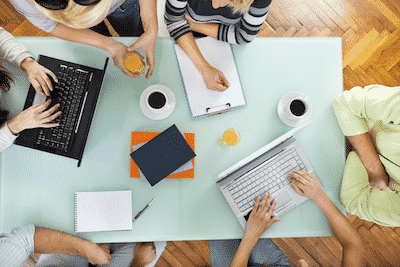 In the process of writing, it is helpful (even vital) to have other sets of fresh eyes look at your work and give you their honest opinions. Peer and professional feedback will help you hone your writing before it is published and even before it reaches the editor, saving you precious time in going from pen to print to paycheck. Joining a writing critique group, either virtually or in person, will be your weapon against common writing mistakes that are easy to miss.
Open Critique Groups
Open critique groups have no restrictions as to genre, level of experience, or any other criteria. These are the easiest groups to work with, especially for beginners. They are found both online and locally (try searching Craigslist or Meetup.com), and due to the diversity of people involved, they can help you expand your professional network. The major drawback is you may never know what types of people will be at any given meeting, so feedback can vary in quality.
Closed Critique Groups
Closed groups most often limit the number of writers who can join and may also have restrictions on genre, experience, or other criteria. They typically involve monthly or annual fees, which can hinder some talented writers from joining. On the bright side of closed groups, the numbers are smaller so you will develop trusting relationships with those critiquing your work.
Online-Only Critique Groups
Virtual or online groups also have their pros and cons. Some helpful things about them include not having to commute to local meetings, which saves you time, and being able to set your own schedule to work within them. If the lack of personal interaction bothers you, you can find one that holds meetings via Skype or Google+ for more real-time interactions.
In addition to the groups discussed above, you may want to add a critiquing partner to your network. Ideally, this should be someone familiar with your genre and your work as a whole. Having a partner gives you the flexibility of only having to arrange meeting times and places with one person. It is recommended that you choose a partner whose ideas differ a bit from yours, as this will give you a fresh perspective on your work.
No matter what critique style you choose, remember you want to vary your audience so you achieve perspectives from as many different viewpoints as possible. This will help you see your work through your readers' eyes, as your real-world audience will also vary widely in their ideas and interests.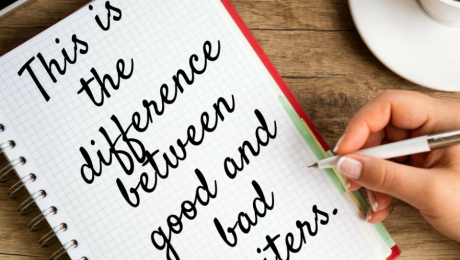 Being considered by your peers as a "good" or "bad" writer can make or break your creative career. However, you can make easy adjustments to elevate your work, get noticed, and above all get better at what you do. There is always room for improvement, and anyone who tells you otherwise has given up. This leads to the first point: Good writers understand perseverance is key.
Quitters Never Win
For those who are just starting to get their feet wet in the publishing world, the first few dozen rejections can be discouraging enough to make you reconsider your passion. Where bad writers throw in the towel, good writers know that the only way to meet their goals is to keep going. Perseverance means pushing through with faith that you will improve or find the break you are waiting for.
While some writers seem to possess a natural affinity for the craft, writing must, like anything else, be practiced. Bad writers wait until inspiration hits, going long periods of time between writing sessions and then blaming things like writers' block for their lack of production during the down times. What good writers know is that having the discipline necessary to write through the dry times makes for additional productivity and becomes a good habit. Most of all, the practice achieved in disciplined writing is vital to success.
Learning to Take Criticism
Criticism is not always a bad thing. If a peer, an editor, or your client reviews your writing and makes suggestions as to grammar, punctuation, content, or any other point of contention, take every word of advice and learn from it. Only you can decide whether or not it applies to your work, but remember, it is not generally someone's intention to give criticism as an insult. It is there to make you better. Listen to both the internal and external voices to help you hone your writing.
Speaking of honing your writing, here is another thing good writers understand: The first draft is never the last. Bad writers will quickly knock off a piece of work, see no room for improvement, and call it a day. Good writers, on the contrary, will polish their work with one or several revisions, tuning their work with precision until it stands above the rest.
From learning to take helpful feedback with a simple, "thank you," to realizing your work isn't perfect but still requires your dedication, there are numerous little ways in which you as a writer can improve. Stay humble, and always be prepared to see your writing project through to completion, even if it means re-writing it twice and taking a rejection in stride from time to time.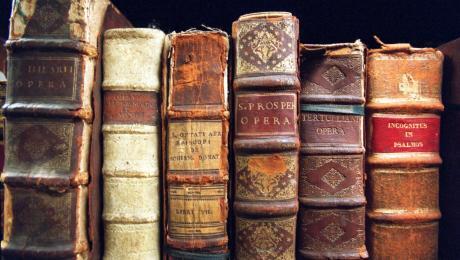 A comparative study of British and American literature revealed that British literature has become less emotional than American literature. This startling fact was revealed by the study published in 2013 in the journal, "Public Library of Science ONE" ("PLOS ONE"). In this study, Dr. Alberto Acerbi and Professor Alex Bentley evaluated more than five million books using Google's database, Ngram Viewer, to reveal the frequency of words associated with anger, fear, disgust, sadness, joy, and surprise in these books.
Stressful Events and Emotional Literature
Dr. Acerbi and his colleague noted that the use of language is tied to major events. For instance, during World War II there was greater use of words associated with sadness. Since the mid-1950s American authors have noticeably used more expressive words.
The emotional prose by writers such as E.M. Forster was replaced by the reserved style of authors including Ian McEwan. From the 1960s onwards, the divergence between the American and British prose and the change in the language used by British writers was more evident.
The study provides a useful starting point to understand the reasons for this divergence. Psychologists have discovered that people who have more emotional intensity live more complicated lives than less emotional people. This may explain why the apparent connection between emotion in literature and turbulent events.
A noticeable albeit unsurprising exception during the Cold War era was the use of words associated with fear, even though British writers used less emotionally expressive words generally. Words associated with fear became more common in the novels written during the second part of the 20th century.
More Turbulent Times in America
The researchers appeared to think that economic prosperity in America made the prose more emotional; yet in the British context they held the contradictory view that turbulent times affected the writing of the period.
While the American economy did go through a post-war boom, American writers were also living through turbulent times. The civil rights movement, the assassinations of American icons (John F. Kennedy, Robert Kennedy, Dr. Martin Luther King, Jr.), the anti-Vietnam War movement, and feminism era were some of the notable emotional periods of the 1960s, the decade of the emerging divergence in the writing styles of the two nations.
In the U.S. were also greater inequality, a weaker social net and activists raising public awareness of the weaknesses. Writers like Alice Walker, Harper Lee, Toni Morrison, James Baldwin, Gore Vidal, Joseph Heller, and Norman Mailer were products of their times. The literary moods expressed in their writings were driven by the major events of the 20th century experienced in their country.
The comparative study of British and American books reveals that writers are communicators who are moved by their times. The storytellers are not immune to what is going on around them. They distill cultural and historical trends of their times in the language they use in their literary works.