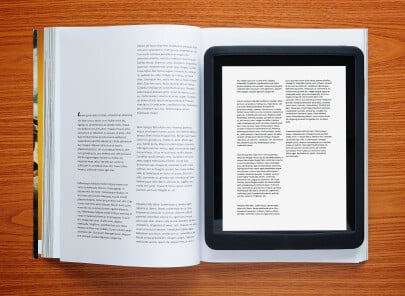 Unless authors are paying for specific services through their ebook publisher, including editing, formatting, and file conversion, they will need to take steps to ensure their book reaches readers in a clean, readable format. Bearing in mind that ePub is the most common format used with the Kindle and other reading devices and applications, these steps will save authors the headache of finding functional errors in their finished product.
Things to Avoid
Avoid letting typos through! It should go without saying, but book ratings dip when there are grammatical and spelling errors present. Remember once an ebook is converted to ePub format, corrections cannot be made. Also, remember e-reader devices have a limited number of font choices. Avoid using fancy fonts which may not translate into the finished ebook. Instead, Times New Roman and Courier are two of the better choices. If the reader wants, they can then change the font based on what their device allows.
Tabs and additional spaces are a major problem when converting material to ePub. Authors need to go through the entire document to ensure it is "clean" before sending to the e-publisher. These steps will make it easy:
Enable "formatting marks" or "non-printing characters" in the word processor.
Physically remove ALL tabs, double spaces, and extra paragraph breaks.
Use the "Indent First Line" feature under the Format menu for indented paragraphs.
Use a page break at the end of each chapter instead of multiple carriage returns.
If the book includes images, they should be resized to a maximum of 300 pixels high if they will be included with the text. If the images will be full-page, they should be resized to a maximum of 1,000 pixels in height by 700 pixels in width. Remember the accepted formats are .JPG, .PNG, and .TIF. Also, never wrap text around an image. Keep the image set in-line with text by right-clicking the photo in the document and confirming its lineup.
Remember also to never refer to page numbers in the document, as page numbers will be different on every device and every app. Instead, create a Table of Contents (TOC) at the beginning of the document and link each reference to its corresponding page by using the menus, "Insert / Reference / Index and Tables," then "Insert Table of Contents." Mark the text to be included (for example, Header 1 styles), and attach each reference to each TOC entry. Easy-to-follow guides for doing this are readily available on YouTube.
One last tip is to use Times New Roman if the text will include any special characters or symbols. This font is the easiest to convert for ePub, whereas if other fonts are used, they may come across as simply a blank box. Better yet, avoid using special characters if possible.
By following these simple tips, writers will ensure their ebook is a high-quality item for their readers. They will also save money over hiring formatting companies whose charges generally start around $50 for what involves only a few minutes of work.