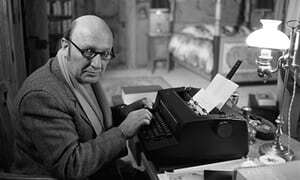 Until 2016, despite writing more than 300 novels and selling more than 200 million books in France, Frédéric Dard's books were not available in English translations. This is unlike the speedy translation of young French author Leila Slimani's novels.
In 2016, the Vertigo crime imprint of Pushkin Press published "Bird in a Cage" and followed it with "The Wicked Go to Hell," and "Crush." These are the first major publications of Dard's psychological thrillers in the "novels of the night" or noir category.
Why Dard May Have Been Ignored Before
The books' editor, Daniel Seton, said in an article in The Guardian that publishers may have thought Dard's invented slang was untranslatable. But his noir novels are beautifully written and do not use that slang heavily.
As a fan, Seton is very happy to bring Dard to an English-speaking audience. He also thinks publication comes at an appropriate time because the market is publishing more psychological thrillers.
A Penchant for Pseudonyms and Style Similar to Georges Simenon
Seton describes Dard's style as being similar to that of Georges Simenon. Unlike Simenon, many of Dard's books were written under 17 aliases, including the name of San Antonio, his Parisian secret police superintendent character. No one knows why he wrote under pseudonyms or how many there were. Only 17 are confirmed, so far.
Although Simenon preferred a third-person narrator, Dard preferred tales seen through the eyes of the protagonist or the villain. Both preferred gritty, unremarkable settings. David Bellos, a Princeton professor of French and another Dard fan, translated "Bird in a Cage." Bellos told Boyd Tonkin in an article published by The Economist's 1843 magazine that Dard and Simenon use language with "extraordinary efficiency." The reader reads their fast-paced novels quickly.
Imperfect Protagonists and Cinematic Plots
Dard's protagonists tend to be flawed characters; the prolific writer who also composed screenplays and scripts wrote plots that would be easy to use in films. If the Dard books sell well, the San Antonio character alone can provide aficionados with plenty of material as there are 173 books about his adventures.
Born near Lyon, Dard preferred writing in the settings of nondescript semi-industrial small towns. The industrial landscape is more native to his Belgian- born mentor, who was born in the city of Liege. The San Antonio novels offer filmmakers plenty of material.
Writers who want to try their hand at noir crime fiction should check out why Dard has devoted fans. Reading is an essential part of the making of a writer, so aspiring authors should take advantage of a revealing glimpse of a master.