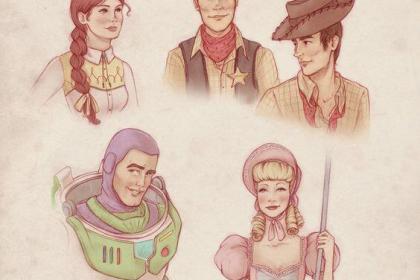 Character, plot, and place are intertwined elements good writers use artfully. Sometimes the place is fictional (for example, Kent Haruf's Holt, Colorado), or real (Naples, the backdrop of a quartet of Elena Ferrante's novels), or disguised (Oxford disguised as Christminster by Thomas Hardy).
The Importance of the Setting
The setting imbues the story with the environment's mood. It layers the tale with meaning about the passage of time, stages of life, constraints felt by the character, and/or as a source motivating the characters' actions.
Undisguised Real Locations
Stories set in a familiar place help the tale appear more real for the readers. The reader becomes absorbed in a fictional story that seems real because it is set in identifiable locations. These locations change over time and are not boringly static backdrops of the unfolding plot.
Elena Ferrante, who chooses to remain anonymous, picked gritty Naples for her stories of the enduring friendship of two girls who grew up in Rione Luzzatti, a poor neighborhood slum of Naples. Naples has a certain reputation because it is home to the autonomous local mafia clans, collectively known as the Camorra.
Ferrante's quartet of Neapolitan novels have other real settings that the characters visit (Milan, and the island of Ischia), stay in (Pisa), and live in (Florence and Turin) as they mature.
Negative, factually incorrect descriptions are vulnerable to litigation. Writers can protect themselves by including disclaimers that their creation is a work of fiction, and any real locations, organizations, and businesses described in it are fictionalized depictions by the author.
Disguised Real Locations
Real locations set in a region where the fictional town is located add touches of authenticity that encourage readers to identify with the characters in the story. Readers who recognize the real place disguised by the author develop an intimacy with the unfolding tale. Also, anonymity wards off litigation.
The Freedom of Fictional Locations
Unrecognizable places can be anywhere, but world-building requires work. Fictional locations can be as varied as J.K. Rowling's Hogwarts and Kent Haruf's fictional Holt, Colorado. One is more realistic than the other, but Rowling's fiction is fantasy and Haruf's is more realistic.
Haruf's fictional town of Holt seems to capture life in the plains of eastern Colorado, where the author grew up. Holt, Colorado functions like Thomas Hardy's Wessex – an imaginary place based on a real region that the writers were familiar with. However, Haruf claimed his stories could be anyplace. His characters' experiences were not limited to a particular location or region.
There's no superior choice of setting. Whether the location is identifiable, disguised, or fictional, the creative details depicted in each context draw the reader further into the world created by the writer.