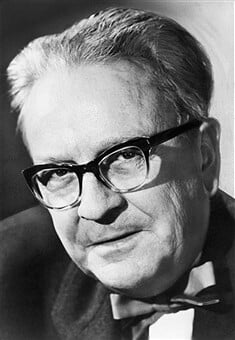 Raymond Chandler introduced a new kind of detective hero in The Big Sleep, his debut novel published in 1939. Philip Marlowe was a regular guy who was smart, witty, and often spoke directly to the reader. Unlike Humphrey Bogart's portrayal of him in the movie, Chandler's creation was funny and literary. Perhaps his literary bent was influenced by Chicago-born Chandler's early life in England. He wrote poems and reviews in England before leaving for America.
Realism in Fiction
Before he started writing books, Raymond Chandler wrote stories in pulp fiction magazines and developed his writing style before his foray into books and screenplays.
In his 1950 essay The Simple Art of Murder, Chandler wrote that the old novels that appeared stilted in his time were realistic for people of the day. However, crime novels of the past and present were too often not realistic. Chandler was not a fan of most of the crime fiction that was favored by mainstream publishers in his time.
At the time Chandler entered the detective story genre, the genre was dominated by the English formula, which did not impress him although he complimented it for its "more sense of background" details. But he said that these novels were "too contrived, and too little aware of what goes on in the world." The English-style writers of detective fiction loved by the publishers didn't write about the "kind of murders that happen" nor "about the authentic flavor of life as it is lived." Chandler wrote about such murders.
Despite that, according to confessed detective story addict W.H. Auden, Chandler's books were "works of art." Auden discussed Chandler and detective fiction in his article, The Guilty Vicarage, published by Harpers in May 1948. Chandler's crime novels covered gritty subjects, and he had a keen eye for details himself which, according to Judith Freeman who wrote a book about him, gave them their authenticity.
Plots Should Stand Up to Scrutiny
Chandler valued books that did not have implausible, unrealistic storylines. In The Simple Art of Murder, his takedown essay of a praised work by A.A. Milne, The Red House Mystery, Chandler reveals what is wrong with the crime novel.
Aspiring writers can take heart that Chandler acknowledged that when it comes to plotting, "(e)very detective story writer makes mistakes." He himself failed to identify the killer of the gardener in The Big Sleep. But mystery fans continue to like Chandler because his "story is his adventure in search of a hidden truth,' with a hero "fit for adventure."
Chandler revolutionized crime writing and influenced generations of crime fiction novelists after him. Read The Simple Art of Murder to learn more about his likes and dislikes.