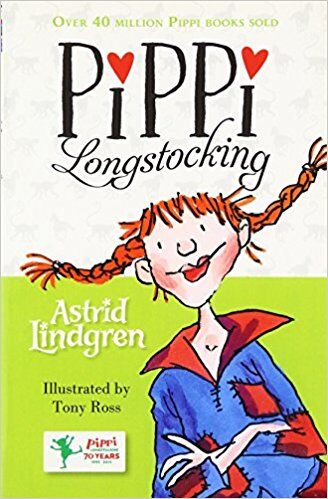 If you have never heard of Astrid Lindgren, you should correct that gap, especially if you aspire to be a children's book author. To get started you may want to see "Becoming Astrid," the recently made movie about the beloved children's book author. If you visit Stockholm, include a trip to Junibacken, the children's museum, which has a storybook train that takes visitors through some of her stories.
Lindgren's Widespread Popularity
Astrid Lindgren's books have been embraced by readers in more than 100 countries and have sold more than 144 million copies. Her books have been translated into 85 languages. She is best known for her Pippi Longstocking and Karlsson-on-the-Roof book series.
Pippi Longstocking, the Brothers Lionheart, Emil of Lönneberga, and Ronia the Robber's Daughter are among Lindgren's characters whose first rapt audience were her children and their friends. Her daughter imaginatively created "Pippi Longstocking" as a name and then asked her mother to tell her a story about this character.
The first book about Pippi was published in 1945. Pippi was a groundbreaking character because she was strong, smart, and more intelligent than adults.
An Unconventional Outlook Created Enduring Classics
As a 17-year-old in 1920, Lindgren applied for a trainee journalist position, an unusual career for a female at the time, confirming her reputation in her small town for being unconventional. She did not become an author until she was in her forties.
In the letter accompanying her original manuscript to the publisher, Astrid Lindgren described her first character, Pippi Longstocking, as "a small übermensch in the form of a child, living in a perfectly normal environment." A Der Spiegel article about the author,
"Wartime Diaries Reveal the True Astrid Lindgren," revealed this description.
Her personality, education, reading, children, and World War II all influenced Astrid Lindgren's books for children. She was a prodigious reader. The Der Spiegel article mentions that Lindgren had said that "Hunger," a novel by Knut Hamsun, was a source of her inspiration. Bertrand Russell, A.S. Neill, and Alfred Adler appear to have influenced her as well.
In her letter to the publisher she pointedly wrote:
"Bertrand Russell wrote that childhood is dominated by the desire to become an adult, or rather the will to power. According to Russell, a normal child dwells on fantasies that relate to the will to power. I don't know if Bertrand Russell is right. Judging by the practically pathological popularity Pippi Longstocking has enjoyed over the course of two years among my own children and their friends of the same age, I am inclined to believe him."
Before she started writing stories, she read many to her young children. Astrid Lindgren's life and books reveal that becoming a children's literature author can be inspired by many influences.