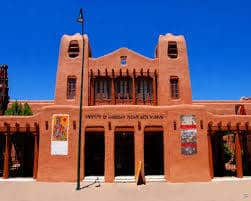 The Santa Fe-based Institute of American Indian Arts ("IAIA") provides a Native American art and culture-centric curriculum. Since 2012, the IAIA has offered a MFA in creative writing. In 2014, IAIA established a bi-annual writers' festival; and in 2017, it awarded its first Sherman Alexie Scholarship of $7,500 per semester.
A Unique Institution
IAIA is the only multi-tribal higher education institution in the country, originally established in 1962 as an art-focused high school. This unique institution is dedicated to the study, creative application, contemporary expression, and preservation of Native American culture and art. Indigenous students from the U.S, Canada and other countries benefit from what the Institute has to offer.
IAIA also offers Associate and Bachelor degrees in Indigenous liberal studies, creative writing, the cinematic arts and technology, studio arts, and museum studies. The MFA program in creative writing is a low-residency program (requiring five residencies) that also provides off-campus online education.
MFA in Creative Writing
The MFA in creative writing program allows writers to work on their craft and learn more about the process of getting published and associated issues. Sherman Alexie teaches for the program, and do two of its first graduates, Terese Marie Mailhot and Tommy Orange. Mailhot and Orange are also the authors of the critically acclaimed "Heart Berries," a memoir, and novel "There There," respectively.
First Sherman Alexie Scholarship Recipient
The Sherman Alexie Scholarship's first recipient, Jamie Natonabah, a Diné, is an alumnus of the IAIA, whose favored medium is poetry. She already has a distinguished resume. She is a winner of the New Mexico Slam Poetry Competition. "Red Ink: An International Journal of Indigenous Literature, Arts & Humanities" has published her work. She has also contributed to "Bone Light" and "Fourth World Rising," two of IAIA's literary anthologies.
Chelsea Hicks Bryan, an Osage, and Grace Randolph, a Wampanoag, were selected as runner-up and third-place recipients of the award, respectively. The MFA program provided more than $200,000 in scholarship money in 2017, including the Alexie scholarship.
Applicants for the annually awarded scholarship must belong to a Native American tribe or First Nation and submit a work sample. The deadline for the 2018 award was February 15.
The IAIA provides terrific Associate, BA, and MFA programs for Indigenous writers to help them improve and refine their skills. Since the 1970s, Native American writers have increasingly published their work for an English-reading audience. The IAIA wants to build on that foundation and nurture more talent by offering dedicated educational programs. However, since its expertise is also open to non-American writers, Indigenous writers who may not have such educational opportunities in their home countries should take advantage of IAIA opportunities.