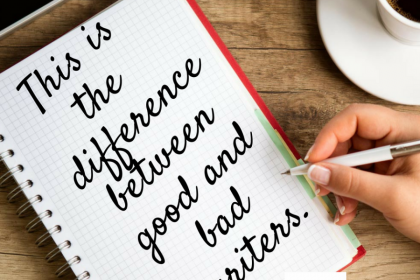 Being considered by your peers as a "good" or "bad" writer can make or break your creative career. However, you can make easy adjustments to elevate your work, get noticed, and above all get better at what you do. There is always room for improvement, and anyone who tells you otherwise has given up. This leads to the first point: Good writers understand perseverance is key.
Quitters Never Win
For those who are just starting to get their feet wet in the publishing world, the first few dozen rejections can be discouraging enough to make you reconsider your passion. Where bad writers throw in the towel, good writers know that the only way to meet their goals is to keep going. Perseverance means pushing through with faith that you will improve or find the break you are waiting for.
While some writers seem to possess a natural affinity for the craft, writing must, like anything else, be practiced. Bad writers wait until inspiration hits, going long periods of time between writing sessions and then blaming things like writers' block for their lack of production during the down times. What good writers know is that having the discipline necessary to write through the dry times makes for additional productivity and becomes a good habit. Most of all, the practice achieved in disciplined writing is vital to success.
Learning to Take Criticism
Criticism is not always a bad thing. If a peer, an editor, or your client reviews your writing and makes suggestions as to grammar, punctuation, content, or any other point of contention, take every word of advice and learn from it. Only you can decide whether or not it applies to your work, but remember, it is not generally someone's intention to give criticism as an insult. It is there to make you better. Listen to both the internal and external voices to help you hone your writing.
Speaking of honing your writing, here is another thing good writers understand: The first draft is never the last. Bad writers will quickly knock off a piece of work, see no room for improvement, and call it a day. Good writers, on the contrary, will polish their work with one or several revisions, tuning their work with precision until it stands above the rest.
From learning to take helpful feedback with a simple, "thank you," to realizing your work isn't perfect but still requires your dedication, there are numerous little ways in which you as a writer can improve. Stay humble, and always be prepared to see your writing project through to completion, even if it means re-writing it twice and taking a rejection in stride from time to time.