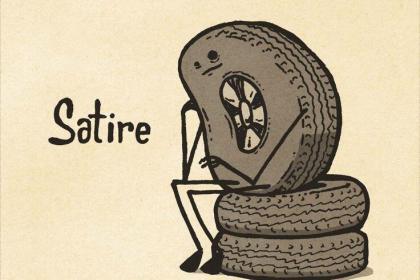 Satire uses humor and irony to criticize society, individuals, or other subjects satirists consider worthy of ridicule. In February of this year, The Independent asked, "Donald Trump has at least made American satire great again – but why didn't Brexit do the same for Britain?"
The Trump presidency is prime material for satire in this country. The tweeter-in-chief provides plenty of sources for satirists in the media. But what about in American literature?
American Literature Has a Rich History of Satire
Satire has a long history in the U.S., as revealed in Sophia McClennen's and Remy Maisel's book, "Is Satire Saving Our Nation?" Cartoons lampooning the English king were popular before the country's independence. Mark Twain and Benjamin Franklin wrote satire as critics of the culture and politics of their time. Franklin's "A Witch Trial in Mount Holly" targeted superstition; and a theme of Mark Twain's "The Adventures of Huckleberry Finn" was a critique of the 19th century society of his time.
Joseph Heller's "Catch-22" is fiction that demonstrates the diverse uses of satire. Heller skillfully revealed the difference between reality and appearance. Kurt Vonnegut and Chester Himes have also demonstrated the variety in consciously written American satire.
But sometime satire is not consciously produced. For instance, Paul Beatty has also used satire to discuss race and class; but he doesn't write satire consciously, as he revealed in an interview published in The Paris Review.
Satirical Fiction in the Trump Era
From the colonial period to the present, Americans have responded to satire. The president is a divisive figure as America moves into the minority-majority era. His polarizing politics provide 'red meat' for his base and a foil for satirists on both sides of the Atlantic writing fiction inspired by his actions. For example, American satirist Andrew Shaffer wrote "The Day of the Donald: Trump Trumps America," a thriller and a parody.
British author Howard Jacobson's "Pussy" is a satirical fable inspired by the newly elected president, while Marc Rosenthal's and Michael Ian Black's visual "A Child's First Book of Trump" is a picture-book that contains humor only adults can appreciate. These satirists have taken the lead that others can follow.
Writing Satire Well Requires Skill
Satire can be humorous; but not all satire is humorous. Humor is a powerful tool in the right hands; Americans respond well to humorous satire as delivered by America's current television satirists. Through comedy the audience is exposed to subjects deserving criticism. With growing pushback against dissent, is this the time for a new golden age of satirical fiction?