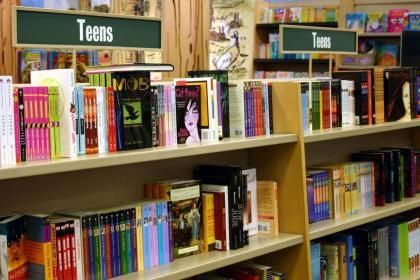 Historical fiction can offer more than escapism to adolescent readers. Re-creations of history in historical fiction (when based on accurate evidence) sheds light on history in a way that facts by themselves cannot. It can enlighten young adults (YA) about ways of being and conflicts in another time, and also resonate with their own pathway to maturity.
Since the 1990s—A New Era of Popularity
Prior to the 1990s, teachers had limited choices in what they could assign to their students. However, from the mid-1990s onwards there has been greater choice in historical fiction for this age group. Scholastic's "Dear America" series boosted the genre's popularity, and genre-blending fiction offered non-history loving YA readers a different reading experience.
Publishers now offer individual novels and series of historical fiction for this age group. As of February 2017, the Young Adult Library Services Association (YALSA) will have a Teen Book Finder Database—a one-stop shop for finding award winners and selected lists. Users will be able to search the database and print customized lists. This will make it easier for teachers to select reading lists. YA writers should take note, as school libraries are major purchasers of books in this category.
The Challenge for YA Fiction Authors
Young adult fiction authors have to create an attention-getting and reader-sustaining story, make a certain period interesting for YA readers, and devise a story that is suitable for that period. To make it more palatable for young female readers, some authors distort the reality of women's roles in the past and the customs of that time. However, it is better to explain the differences as YA readers are capable of understanding that people lived differently in the past.
An Example of Genre-Bending YA Historical Fiction
Maggie Stiefvater, a YA author herself, selected "Code Name Verity" by Elizabeth Wein as her favorite book for 2012 in her list of "5 Young Adult Novels That You'll Never Outgrow," published on December 20, 2012. This book illustrates the genre-blending appeal that can hook YA readers of this or an older age group. The novel is about two girls who join the British war effort in World War II.
YA Fiction Also Enjoyed by Adults
A market that has developed in the past 50 years, the children's book industry has expanded exponentially. A major reason is that it also attracts adult readers. A 2012 survey revealed that 55 percent of YA fiction readers are adults. Young adult books often outsell even the most popular adult books. Young adult fiction excels in providing escapist appeal.
The inventiveness reflected in YA literature is rare in adult literature. Adults also enjoy the nostalgia evoked by YA historical fiction and other subgenres of the YA fiction category.