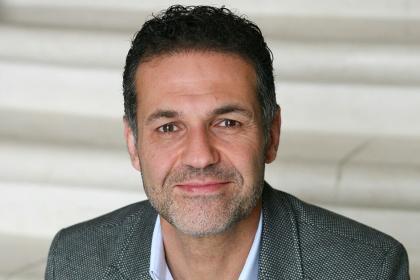 Khaled Hosseini's fourth and newest book is inspired by Alan Kurdi, the young child whose lifeless body was found on a Turkish beach. "Sea Prayer" is a short, illustrated book for readers of all ages and follows a virtual reality show of the same title that was scripted by Hosseini.
Acclaimed Novelist and UNHCR Goodwill Ambassador
Khaled Hosseini, a United Nations High Commissioner for Refugees (UNHCR) Goodwill Ambassador since 2006, will donate his earnings from this book to the UNHCR and his own charitable foundation, the Khaled Hosseini Foundation. "Sea Prayer" takes the form of a letter from a father to his sleeping son. Its press release quotes Hosseini's statement that his book "is an attempt to pay tribute to the millions of families" that "have been splintered and forced from home by war and persecution."
Hosseini himself is one of many who have fled their homes "in the midst of a displacement crisis of enormous proportions," a crisis that is the source of inspiration for his latest creation.
From an Afghan Setting to Other Venues
When his debut novel, "The Kite Runner," was published in 2003, Khaled Hosseini burst onto the literary scene as a distinctive voice bringing foreign characters to distant audiences. Hosseini writes powerful stories, and his new novel is at least as memorable as the others.
Hosseini followed "The Kite Runner" with "A Thousand Splendid Suns" and "And the Mountains Echoed." Each of his first three novels had an Afghan character or storyline. This time the father of two writes from the perspective of a father and what Hosseini imagines he would feel in such circumstances.
Although he is a refugee, Hosseini was studying in Paris where his diplomat father was based when the Soviet invasion caused his father to seek asylum abroad. Consequently he had a more luxurious route than the harrowing journey Syrian refugees and other refugee victims of war experienced.
Nonetheless, just three years after the publication of "The Kite Runner," its author became a Goodwill Ambassador for UNHCR, the UN's refugee agency, revealing his commitment to the cause of refugees.
The "Sea Prayer" is a good book to read to your own children or to use to teach school children about the subject of refugees. For prospective children's literature writers, it offers a fine example of addressing the subject for audiences of all ages. It is fortunate that a writer of this caliber is taking this message to a wide audience.