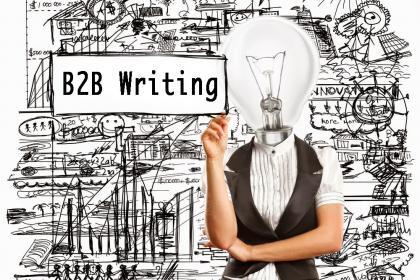 Fifty-four percent of B2B marketers and fifty percent of B2C marketers identified content production as their greatest challenge in the 2015 annual report of the Content Marketing Institute (CMI). This is good news for capable content writers looking for business in this market.
Why You Should Check Out the B2B Writing Market
With rates of $1 per word or more, the B2B writing market is worth checking out due to the growing appetite of businesses for increased content. CMI's Benchmarks, Budgets, and Trends survey for 2016 revealed that seventy-six percent of marketers intended to produce more content in 2016 than they did in 2015. Fifty-one percent intended to boost their budgets, and for sixty percent content production remained their top challenge.
This indicates a booming market for writers who are skilled in writing content to sell services and/or products to other businesses and to write engaging copy about business problems.
Understanding B2B Content Writing
Since the target audience represents their employers, writers need to have the information required to make the purchase decision and/or compare the offered service/product to other comparable services/products. Potential purchasers need information they can use to justify their selection among companies. This may include background about the supplier, the price, technical specifications, and any other relevant information.
The B2B audience values information, including statistics, about the return on investment from purchasing the services/products being offered. This audience receives information today through a variety of mediums. B2B writing involves press releases, ads, and other marketing materials including articles, white papers, case studies, and blog posts on the company's website or wherever the potential audience can be reached.
Each kind of for-business writing has a standard format and best practice within its genre. Using social media to connect with the target audience is part of the process.
Skills of Successful B2B Content Writers
Desirable B2B writers know how to write convincing content that is relatable, engaging, and readable. They know how the leadership, marketers, sales force, and customer service departments collaborate to serve the interests of the business.
B2B writers are comfortable with internet-based research. They know how to search online to find relevant information and familiarize themselves with the terminology used by businesses in specific sectors.
Writing search engine optimized content to attract online traffic, including basic knowledge of SEO keywords, is part of the skill set that effective writers need to become successful in this niche market.
With hundreds of thousands of U.S. businesses having websites and/or marketing budgets, there is no shortage of potential clients for interested content writers. If you have the chops, go ahead and pitch your talents to prospective companies. If you are new to the market, learn how to develop your B2B content writing skills before you approach potential clients.