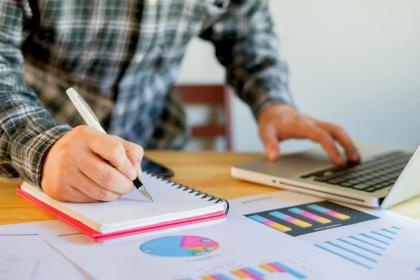 Because being a writer involves so much more than writing, many writers can be put off by "what happens next" after their manuscript is complete. Some will delay writing for fear of the selling process while others may have the next great American novel sitting in a file on their laptop hoping it will publish itself. This quick seven-step guide will give writers who are reluctant to handle the business side of their work the boost they need to be successful.
Begin with a Brainstorm
Sometimes when faced with a large project, too many elements encroach from all directions, making them difficult to sort out. This is where a brainstorm (or a brain-dump) comes into play. Beginning at the beginning is impossible when one doesn't know where to start. If this is the case, start anywhere. Imagine where you will be a year from now and what it will take to get there. Your first publication, more books completed, and growing your online presence are good places to start.
Find Your Common Themes
Once your next year is on paper, comb through to determine which goals fit into the same theme. Themes can include writing improvement, publishing (including locating and querying appropriate agents), and social networking. Education is another theme that can crop up. That would include things like finding a writing partner, attending workshops, and industry research.
Prioritize Your Objectives 
With your goals more organized, you can start prioritizing your objectives. Based on your current situation, figure out what your highest priority is – what must you accomplish first before any of the other steps can happen? Be honest with yourself, and determine what your writing career really needs by setting your personal wants for your career aside. Work your way outward into a realistic road map to your goals. 
Build Your Platform 
Next, you will need to choose which goals you are going to pursue. Pick two of your most critical focus areas or themes, and think about what steps are needed to complete them. A good, attainable business plan typically contains two goals. The third and fourth goals and so on become secondary goals. All goals should have an action list with clear steps toward achievement. 
Make a Realistic Timeline
For each goal, setting a timeline will keep you accountable and allow you to budget your time accordingly. Timelines can be composed of weekly, monthly, even seasonal deadlines that you set based on your needs. Every time you set a deadline, remember to set a fallback date in case that deadline is missed. This makes keeping to your schedule a bit more forgiving in case something comes up.
Compile Your Plan 
When putting together your final writing business plan, it helps to create a visual reference. Using a spreadsheet is the easiest way to chart your plans. Begin with the headers Area of Focus, Goal, Timing, and Action Items. As you fill in the list, highlight the priorities of each task. Recommended: light red for top priority, yellow for secondary priority, green for "when everything else is done." Keep this visual aid posted where you write so you are always reminded to stay on track.
Keep Going with Daily Challenges
With your business plan in place, the hardest part will be staying with it and keeping yourself honest. As a writer, you wear many hats, but your plan will help you keep your milestones in view. As you reach each one, you will feel more empowered to tackle the next. Give yourself room for new projects within your plan, and be forgiving of yourself when things change. Restructuring is easy once your time and goals are organized. Most of all, challenge yourself to ensure everything you do will help you reach those goals.