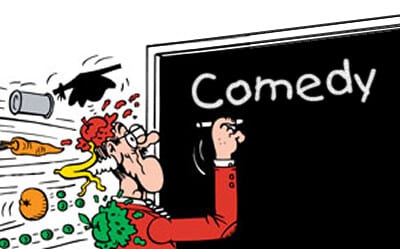 The Art of Comedy Writing
The craft of comedy writing certainly intrigues, whether you want to be involved professionally with after hours talk show T.V., or are simply entertaining an interest or exercising your writing ability.
Oftentimes "ghostwriters" will draft jokes for presenters, and oftentimes the presenter will write her own material; or of course a combination of many minds. Yes, the presentation of a joke or the delivery of a line dictates the effectiveness of the written script in many cases, but effective comedy does not exist without effective writing. Even virtuosic improvisers have a sturdy foundation in "writing"—be it physically or simply in the mind—material for future shows.
With so many subgenres in comedy, and an endless number of comedic paths a comic may take at any moment, it is fruitless to attempt to pin down some list of prerequisites for effective comedy writing.
Nonetheless, if these three rules are observed at least in awareness (not necessarily executed), your comedy writing for most audiences is moving in a good direction.
Move Your Audience
The typical audience is mostly tired; it is the end of a long day. Effective comedy writers are aware that their audience must be roused in some way. Perhaps the wit of your writing alone will provoke laughter and a natural lifting of spirits. Many effective comics and writers can claim this, and yet so many comedy vehicles such as night T.V. talk shows incorporate physical "games" or "contests" like potato sack racing or ping-pong.
Also note how alert and energized guests on late night talk shows often appear—most are responding to the "electric" and "live" vibe that the production and attitude of the talk show provides as setting.
Know Your Audience
This comes across as vague, but keep in mind these two things: develop a natural curiosity and love for all people, and desire to learn something about everyone you meet, and to learn something from them. Good comedy writers—for late night T.V. or for any sector of comedy—understand the human spirit quite acutely. Secondly, be aware of the audience demographic for the show your write for!
Be Honest, and Don't Be Afraid to Go Crazy 
The most honest time of the day for us is late at night—maybe we have relinquished our "roles" at work for the day, or maybe we are able to be ourselves in solitude, or with a loved one at night.
The fact is, audiences want something real and honest and raw from their experience watching the show.
Don't be afraid to take appropriate risks with your writing, and test the waters with some of your writing to see how it plays out, and how the presenter handles things. To keep relying on the same tricks does not a good magician make, nor an effective comedy writer.