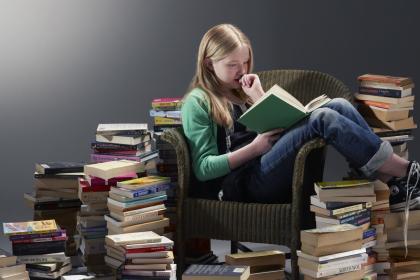 One cannot overemphasize the benefit of reading, especially for an aspiring writer. Develop an affinity for authors whose style pleases or inspires you, study their works tirelessly, and you will soon find yourself integrating the magic of these authors into your own work, one way or another.
Obviously, the act of reading alone will not write your novel for you. You still have to fill that first blank page with your own original ideas and then forge onwards. But almost nothing flexes your creative muscle more than reading what other artists have created.
Literary Nutrition
If you are a writer, choosing what to read is like choosing what to eat. Reading historically and objectively good literature will improve your own writing, and an apple a day keeps the doctor away, as they say. There is nothing wrong with indulging in a cheap, melodramatic novella you bought in the grocery line, nor is it a nutritional sin to have a piece of cake after dinner. However, keep adding filler to your diet and you will soon see the negative consequences.
Look Back
As a writer, you need to be aware of what writing came before you in order that you write appropriately and effectively for a present and future audience. Familiarize yourself with the classic works before moving on to other works. The more sound your foundation in past literature is, and the more extensive, the clearer your perspective will be on what "works" in writing and on what style and content has been universally relatable and influential for centuries.
Concentration Kills
Get in the habit of reading everyday, and also make a point to challenge yourself to read for longer and longer periods of time without rest. Concentration is a skill that can be exercised. Plus, there is little that hinders a writer more than impatience. You must have the ability to work through less than enjoyable periods of your writing experience. Writers with supreme concentration and patience will always be able to overcome writer's block (which no writer is immune to), because they will be able to work through stretches of mental discomfort or frustration and arrive at a new creative dawn.
Get Away From It
Lastly, all writers seek a break from writing when they are in the throes of the craft for extended periods. Many writers have been known to run along the water or socialize before returning to their writing with a fresh perspective. Reading is another effective way to give your brain respite from writing. Read something wholly separate from whatever you are working on at the moment in order to escape into another headspace.