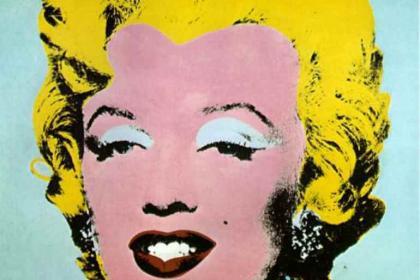 Editing is a crucial aspect of writing, but the question of how to edit is always an interesting one. The Warhol method of writing features a cyclical self-editing system. The writer continually reflects back on what she has written in that sitting, editing and revising her work as she goes so that she leaves a trail of the finished product as she continues to write.
Why Warhol? 
The nature of this writing method is similar to the painting methods of Warhol, whom often marked very exacting lines and boundaries from the get go in his works. These boundaries were features that would remain in the finished product. Using the Warhol method, the writer is extremely self-aware of each word choice and each sentence because she is constantly reviewing the work's details and the work as a whole. Writing this way, the writer effectively writes one draft and is complete.
How to Do It
Imagine an author starting a work. She writes one sentence and reflects on how that sentence sounds and how it fits within the context of her plan for this work. She decides that the verb could be more telling, and edits the sentence. She now analyzes this sentence and judges it complete.
She writes another sentence, and another, and so on in this fashion. She reflects on the first paragraph and makes changes according to its efficacy. Perhaps she even goes back and changes the first sentence, since it now requires adjustments with the arrival of a further narrative.
The writer moves their prose along in this careful, perhaps methodical fashion that is very exacting and solid, and that which leaves little room for an editing process once the work is complete.
Why Do It?
The Warhol method is not objectively better than any other method of writing or editing. It is simply different from the intense editing processes, which often work with a piece that was spit out as fast as possible at the onset of the subject matter fully forming in the writer's conscience. There is not enough time for craft here.
Certain writers like the Warhol method because they like the notion of writing the last word of the piece and feeling (and perhaps, being) done with the piece. They find it easier to be motivated to write because they know that when they are finished, the work is done. Undoubtedly, there is something to be said about this mindset versus the prospect of finishing a work and then immediately venturing to, in ways, begin the work all over again.