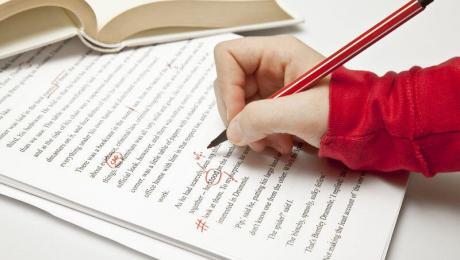 You've just received your first manuscript to edit. What should your work process entail? In this article, we will cover the steps you can take to ensure a thorough edit—whether for a blog post, a book, or any other text.
Establish Realistic Expectations
It is commonly known that the more times you go over a document, the greater your chances of catching all errors. However, even if your client approves an extended timeframe, the pay may only be equal to the equivalent of one read-through.
This is why it is necessary to first consider the author or publisher's budget and then how many hours you can reasonably allot to this project to make it profitable for you while meeting the client's requested deadline.
Find out whether the client wants a light, medium, or heavy copyedit. A light copyedit, also known as a mechanical edit, takes care of all definite errors in spelling, grammar, and punctuation, as well as ensures consistency across hyphenation, number, and word treatment.
A medium copyedit includes all tasks within a light copyedit but goes beyond it to point out questionable grammar and usage and possible factual errors, along with suggesting revisions where needed. A heavy copyedit takes this one step further by revising poorly worded sentences, reorganizing confusing text, and brushing up all aspects of the document.
Since more work is required of a heavy copyedit, it naturally takes longer to complete, and your fee should reflect this. If a document needs a heavy edit, but the publisher or client's budget only allows for a light edit, explain the amount of time (which determines the type of edit) your client's budget allows.
For example: "Your budget of X for editing 10,000 words only allows me to give your document a light edit."
Obviously, not all clients have limitless budgets, and you will need to adapt the level of your editing to the budget available. Quite often, this means a light edit, and you should stick to correcting glaring errors but leave certain issues—such as passive construction—alone for when you are hired to do a medium or heavy copyedit.
Getting a firm grasp of the various editing levels and making sure both you and your client are clear on the type of editing you are being hired for will keep expectations clear on both sides.
Preparing for a Successful Edit
After receiving the manuscript from your client, place the original in a safe place, and make all your edits to a copy of the file. Microsoft Word's Track Changes is the most commonly used revision software available. As an editor, you should be familiar with how to make changes on-screen, as the majority of editing is now done through this method. There are many online tutorials on Track Changes, and a little fiddling should have you up and ready to go fairly quickly.
If your manuscript is short, say under 2,000 words, it is possible to edit from start to finish without needing to scan the text before beginning to make corrections. For longer manuscripts, such as novels and text that exceeds 2,000 words, it is helpful to get a glimpse of the manuscript's scope before beginning your edit. Often, you'll note questions to ask the author/your employer that need to be resolved before you begin.
You will also want to determine the client's preferred dictionary and style guide. If your client does not have a preference, Merriam Webster's Collegiate Dictionary, 11th Edition is used by many in the publishing industry as the preferred dictionary, and The Chicago Manual of Style, 16th is the preferred style guide.
If this is a client you will potentially be working with frequently in the future, create a style sheet with preferences particular to your client. Editors use style sheets to keep track of editing decisions made for a client that go beyond the indisputable. Katherine O'Moore-Klopf provides style sheet examples on her site, which can be found here.
Some issues that are good candidates for style sheet entries in order to maintain consistency across a document are the following:
Treatment of numbers
Hyphenated words
Unusual capitalization preferences
Treatment of proper nouns
Names of people and places
Entries can be listed alphabetically, but you can organize your style sheet file using whatever method works for you.
Don't Lose Your Cool
After inserting the millionth comma, or correcting numerous misspelled words, you may begin to feel frazzled. Keep in mind that those little mistakes that made their way into the document are why you are being hired in the first place. Be thankful for them, as those mistakes are what keep you employed. If everyone were capable of catching them, you would be doing something else for a living.
Aside from not losing your cool, you need to maintain a positive and helpful relationship with your employer. Venting your frustrations regarding problematic text is for amateurs. Professional editors are solution-oriented when they need to resolve an issue. Depending on the requested level of edit, if you feel strongly that some sentence must be reworded to avoid being misread, keep your query brief while also providing a suggested solution.
Occasionally, you'll come across an editing issue that you will not know how to handle. Perhaps it has been so long since you have come across an issue similar to it, and you are simply unfamiliar with what convention mandates. This happens to even the most experienced of editors, and it can be solved by knowing where to turn for answers. Bookmark key websites, or have on your bookshelf resources that can serve as a lifeline when you are floundering.
During your final read-through, keep an eye out for errors you know are weak areas for your author. If you've found one usage error, it is likely the author has repeated that mistake at some point within the document. Be prepared to consult your dictionary as often as needed. Do a word search for certain commonly misspelled or misused words. The following are some terms to search for:
to / too
lie / lay / laid
who / whom
less / lest
effect / affect
then / than
Check that correlative conjunctions appear in their complete form. For example, a sentence that includes "not only" in the first part should be followed up with "but also" in the second half. Monitor lists for parallel structure, and make sure subheadings or chapter headings are treated consistently throughout your document. Search for doubled periods and other punctuation symbols that could have been missed on the first edit. Search and replace double spaces with single spaces.
How to Complete Completely
Say you've completed your first edit. Is your job done? Not yet. Your responsibility is not only advocating for the reader by ensuring easy-to-read, error-free text, but you are also accountable to your employer.
After completing your first editing job for your new boss, explain the basics of what you have done. For example: "I've edited for the following: punctuation, spelling, word treatment, repetitive use of certain words or phrases, and consistency in word and number usage. Of course, if there are any edits you do not agree with, please feel free to reinstate your preferred version."
Praise any aspect of the writing you appreciated. Mention issues you came across and how you resolved them. If there are any unresolved aspects, discuss how to proceed. Your tone should be respectful. Your role is that of helper, not grammar teacher. If the client questions an edit, explain the convention you are following in simple terms. Include a link to where a more thorough explanation can be found.
As an editor, it pays to keep a humble demeanor. There will be times where you will miss an edit—it happens to the best of us—and when it does, the less cocky you have been, the easier it will be for you to apologize and rectify your mistake.
Save all your work. Keep notes on how each job went, time to completion, and any particulars peculiar to that client—as you will want to have all of this information on hand if they hire you again.
Finally, congratulate yourself. With your first editing job complete, you are now a professional editor!